A Brief History B&M Fabric Shops
 Leeds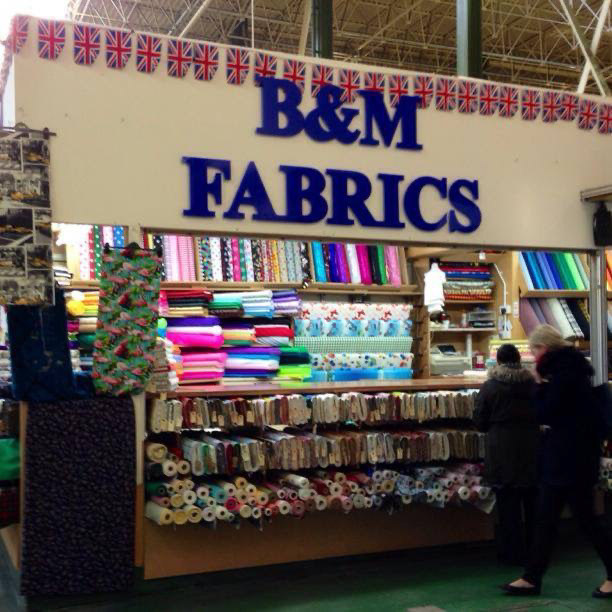 B&M Fabrics is a family owned and managed fabric shop based in Leeds City Centre. Our story began in 1967, when Bill and Margaret set up a small stall selling remnants (roll ends of fabric) on Leeds Kirkgate Outdoor Market.
Discovering their love for the fabric industry, and thriving on many happy customers, they moved to a more permanent store inside Kirkgate Market which took the name 'Remnant Corner'
We can still be found here today, inside Leeds Kirkgate Market, alongside our shiny new  fabric and wool shop on New York Street, Leeds - which opened in October 2019.
B&M Fabrics in Leeds, has expanded greatly since we began selling remnants and we now offer a wide variety of Fabric by the metre, Haberdashery, Knitting Wool and Foam.
Our products are here to create happiness. We have a passion for what we do and we want to share our love for all things fabric.

We are here to help you unleash your creativity, enjoying some well-deserved 'me time'.

Our aim is to get as many people as possible in Leeds, and all around Yorkshire, Sewing, Knitting, Crafting, and Make Do and Mending.
OUR ETHOS IS CUSTOMER SATISFACTION
We're here to provide an enjoyable experience, while offering advice you may need in order to get started on your next project!

CLICK HERE TO SEE FABRIC IDEAS
WE LISTEN TO OUR CUSTOMERS
Here at B&M Fabrics in Leeds, we are guided by our customers.

We follow your lead on any new trends you wish to get involved in, as well as stocking the reliable essentials.

If we don't have it we will do all we can to source it for you.

Just pop in to either of our fabric stores in Leeds, on New York Street or inside the Kirkgate Market Hall - they're very close to each other - so you can visit both.